About Us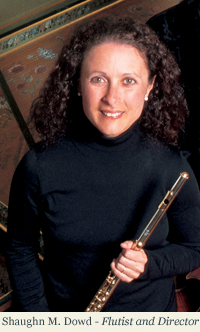 , formed in 1989 by Shaughn Dowd, flutist, is an ensemble of highly acclaimed, experienced professional musicians who perform extensively throughout the Baltimore and Washington DC area. Exclaimed as "sparkling" by the Washington Post and voted one of "Washington's Best" musical ensembles by the Washingtonian Magazine,

has performed for numerous prestigious events including Presidential Inaugural Balls, Diplomatic Receptions and Embassy Parties, Charity Fundraisers, Public and Private Celebrations and Ceremonies.
Comprised of conservatory trained musicians,

is known for its exceptional quality musicianship as well as personalized service and outstanding professionalism. Our ensembles feature talented musicians who have worked together for years, rehearsing and producing polished concert performances and recordings in addition to their professional engagements. Noted for their "elegance" by Grace Jones, Washington Post Music Critic,

continues to pursue and achieve the highest level of performance standards.

commands an extensive repertoire of music spanning several centuries and numerous styles as collected by Ms. Dowd exclusively for

. We specialize in providing individualized music for each client's event with an emphasis on original arrangements and performances of personal requests. From classical ensembles to popular combos and salon orchestras,

's music adds elegance to any occasion.