Classical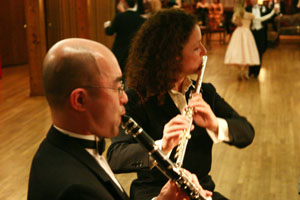 For your beautiful wedding ceremony or elegant dinner party, let our music add the perfect ambiance.

s classical ensembles can perform music from Bach to Bernstein. Enjoy the festive music of such favorites as Handel and Vivaldi or the wonderful "standards" of Haydn, and Mozart. Whether you prefer light opera or Romantic French, it is all possible with

Our more traditional ensembles feature various combinations of strings, winds, brass, harp, guitar, piano and voice. Alternative configurations are also possible.
To listen to a musical selection performed by several of our classical ensembles, click on the adjacent play button.
Adobe Flash Player is required. Click here for free download.
Duos
Flute and Guitar
Playera – Granados
Chorale Prelude on "Sleepers Awake" – Bach
Flute and Harp
Var 18 from Rhapsody on a Theme of Paganini – Rachmaninoff
Flute and Piano
Claire de Lune – Debussy
Trios
Flute, Violin and Cello
Rondeau – Mouret
Allegro, from Spring – Vivaldi
Flute, Violin and Harp
Tango – Albéniz
Flute, Violin and Piano
Flower Duet – Delibes
Quartets
Flute, Violin, Viola and Cello
Allegro, from Spring – Vivaldi
Jesu, Joy of Man's Desiring – Bach
Quintet
Harp Quintet
O Mio Babbino Caro – Puccini
To discuss the various combinations, obtain repertoire lists or a price quote, please contact