Salon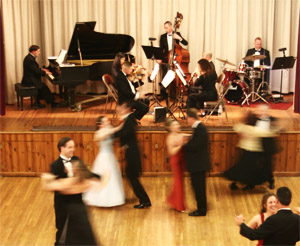 One of our most popular groups, the

Salon Ensemble specializes in Viennese waltzes, slow waltzes, Latin standards, and a generous collection of music from the swing era as well as melodies from Broadway and the ever-popular movies. Lovers of romantic music can waltz to the sweet strains of Strauss's "Blue Danube", tango to "La Cumparsita" or listen to George Gershwin's tender "Love is Here to Stay". Let the

salon orchestra set the mood for your next soirée.

Salon Ensemble performances include ballroom events sponsored by The American-Austrian Society, The Committee for Western Civilization, The Hospitality and Information Service (T.H.I.S.), Manassas Ballet, Summer Opera Theatre Company of Catholic University, The Washington Dance Institute, The Washington International Piano Competition, and private parties where ballroom and salon music is enjoyed.
To listen to a musical selection performed by our salon orchestra, click on the adjacent play button.
Adobe Flash Player is required. Click here for free download.
Salon Orchestra
Grand March – Radetzky
Walzer – Wiener Blut
Valse – Mon Rêve
Polka – Tik Tak
Walzer – Gold und Silber
Fox Trot Medley
Walzer – An der schönen, blauen Donau
To discuss the various combinations, obtain repertoire lists or a price quote, please contact