CON BRIO! STRINGS

Erika Sato, Principal Violin




About Erika


Erika Sato is a critically acclaimed violinist based in the DC Metro area. Her work praised as "elegant" and "riveting", by the Washington Post, Sato is a former titled and tenured chair member of the Colorado Symphony Orchestra. She has also been a guest performer with groups such as The Kennedy Center Opera House Orchestra and New Jersey Symphony. Sato has given recitals across the country and made solo appearances with orchestras that include the Colorado Symphony and National Repertory Orchestras. Sato is a current member of "The President's Own" United States Marine Chamber Orchestra. An avid chamber musician, she has performed at music festivals including Banff, Loon Lake Live!, Aspen and Tanglewood. Sato received her Bachelor and Master of Music degrees from The Juilliard School under Masao Kawasaki.
Contact: Erika Sato
Phone: 202.270.0215
Email: esatdc@gmail.com

About Us



Strings offers the following instrumental combinations:
String Quartet
String Trio (two violins and cello)
Violin and Cello Duo
Violin and Bass Duo
Solo Violin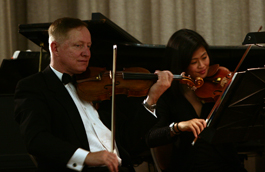 Please contact Erika directly for rates.
A list of repertoire can be found on the
Repertoire page.